Our Services
The David J. Yvars (DJY) Group has the type of collective expertise and experience that you can take comfort in. When you forge a business relationship with us, you can feel confident knowing that you're partnering with a seasoned group of professionals dedicated to providing you the best service and advice possible.
As your Financial Advisor, we believe it is our utmost responsibility to provide sound financial planning and investment advice based on our clients individual sets of circumstances.
After more than 30 years in the industry, we've learned the value of sticking to the plan in the face of wild highs and distressing lows, and we believe this approach is more significant today than it has ever been.
Portfolio Management
Developing a sound investment plan and following it closely can be challenging in today's sometimes confusing and fluctuating financial markets. As assets grow, so do the complexities of managing investments and accurately assessing their performance.
Without clear direction, some investors may be inclined to sit on cash for extended periods of time or time the markets. These typical investment traps can steadily erode the likelihood of achieving individual goals and realizing expected return objectives.
At the same time, many investors have neither the time nor the analytical tools to manage assets properly. They require professional assistance to review their personal sets of circumstances and existing asset allocations in detail, define return objectives and risk tolerance, establish, implement and manage an appropriate customized investment strategy, and carefully monitor performance with rebalancing recommendations. Until recently, this kind of multi-dimensional service was limited to large institutions and the wealthiest individuals.
With the David J. Yvars Group, we'll be able to fully customize your portfolio after establishing your risk tolerance and return objectives utilizing individual securities, mutual funds and exchange-traded funds.
Financial Planning
Finance affects nearly every part of a person's life, so we believe in developing financial plans that are just as far-reaching. Our process begins with a full review of a client's needs and objectives. Then, with goals identified, we start planning for everything from asset allocation and reallocation to trust creation and insurance selection.
We utilize Goal Planning and Monitoring (GPM) software. GPM is a very sophisticated, yet easy to understand application that enables us, as advisors and clients quickly identify client goals to assess appropriate asset allocation targets, spending or savings rates, and the probability of achieving those goals.
Risk Management
Risk is an inevitable - but manageable - part of life. As we design and implement portfolios for our clients, our goal is to minimize the negative impact of market volatility. And as we develop larger financial plans, we work with each client to make decisions about life insurance, annuities and long-term care based on his or her unique needs.
CPA / Attorney Network
As part of our program, you can take advantage of The David J. Yvars Group CPA/Attorney Network to review your existing tax or estate plan, or if you do not have a plan in place, to customize one for you.
Our network of independent CPAs and trust and estate attorneys can help meet your comprehensive estate and tax planning needs. There is no fee for an initial consultation, but fees apply for any subsequent consultations.
At your option, the network CPA or attorney can help prepare a basic estate or tax plan for you at a pre-disclosed, fixed fee. All of the CPAs and attorneys in the Network have at least 20 years of tax or estate planning experience.
Contact us to learn how our CPA / Attorney Network can help meet your estate or tax planning needs.
401(k) & 403(b) Services
The David J. Yvars Group consists of a full-service team of specialists dedicated to provide expertise and collaboration in the areas of group retirement plan consulting.
The David J. Yvars Group offers plan sponsors a variety of retirement plan options. We have no proprietary "in-house" 401(k) & 403(b) products, therefore, no conflicts of interest. Instead, we provide independent, objective advice. Our process focuses on you and your business, tailoring solutions that meet your needs and those of your employees.
Our goal in working with plan sponsors is to significantly reduce overall plan expenses while providing all participants with a better selection of better-performing, low cost mutual funds to choose from across all asset classes, and to provide the highest level of service all in an effort to maximize participant retirement savings".
The David J. Yvars Group partners with the following providers:
ADP
American Funds
Ascensus
Empower
Mass Mutual
Newport Group
Paychex
Fidelity
Vanguard
Verisight
IRA Rollovers
Are You ... Changing Jobs? Changing Careers? Retiring?
If you are receiving a distribution from a company retirement plan, there are important decisions you need to make ... sooner than you may think. How will you preserve the retirement funds you have accumulated to provide the income stream you will need for your future? There are several options to consider that can help you protect the security you've earned from unnecessary or untimely income tax treatment. Let us show the way by using our experience and knowledge in the IRA / retirement plan landscape.
Trust and Estate Services
At The David J. Yvars Group, we have more than 30 years of experience handling estate administrations, probate matters, long term trusts and more complex situations such as removal of corporate trustees, contested wills and trust and estate litagations. We specialize in working with estate attorneys and fiduciaries on the various administrative and portfolio management aspects necessary while assets are being held in estate accounts, long term trusts, guardianships, charitable trusts and other fiduciary matters.
Through our collective professional experience, we've learned that each trust and estate is different; therefore, the portfolio management required varies depending upon the unique characteristics and complexities of each situation.
By working with trustees and executors, we can help ease the fiduciary responsibilities when it comes to gathering, managing and distributing assets in trusts and estates.
Insurance Broker Network
Group Medical – Group Dental – Group Vision – Group Life – Group A.D.D.
Short-term Disability – Long-term disability
Group Insurance
Our mission is to assist mid-large groups, including businesses, union plans and union welfare funds, in finding and implementing the most appropriate insurance coverage with products that fit their needs utilizing the highest-rated carriers.
We are completely committed to our clients and strive to provide the best coverage (on all Group lines) at the absolute lowest cost.
The David J. Yvars Group and its insurance partners have been successful in saving Group Insurance Plans thousands of dollars in premiums and we look forward to doing the same for you!
If you would like to have us provide a complete review of your Group Insurance click below and e-mail us your request.
We look forward to being of service!
E-mail us at david@yvarsgroup.com today!
Retirement Planning
Planning For The Retirement You Want
A carefully considered retirement income plan can increase your chances of making your money last as long as you need it.
Key Elements Of Retirement Income Planning
There are many factors to consider when it comes to funding a secure and fulfilling retirement. We have created a simple framework that illustrates how four key elements – reliable income, retirement assets, needs and wants – work together to provide a clear picture of your income sources and how they'll pay for retirement expenses in the years to come.

We'll start by identifying and defining the key elements of your retirement picture.
Sources of reliable, consistent income you receive
monthly or annually that will be used to cover your
expenses in retirement.

Examples:

Social Security • Pension payments
Employment income • Annuities

These financial assets, particularly those designated
to fund your retirement, can supplement
your reliable income.

Examples:

401(k) plans • IRAs • Roth IRAs
Checking accounts • Bank savings/deposits
Certificates of Deposit • Brokerage accounts

Essential expenses, based on your own values and
priorities, that must be covered. For example, some
people view donating to charity a necessity,
while others might not.

Examples:

Mortgage or rent payments • Groceries
Household utilities • Insurance premiums
(e.g., health, car, home)
Vehicle maintenance and fuel • Prescription expenses

Expenses that are nonessential, but ideal in retirement.
They reflect your vision of retirement.
Traveling to visit family may be a necessity; while the
additional expense of taking an annual trip to Europe
might be a want.

Examples:

Dining out • Entertainment • Recreation
Gifts • Charitable giving • Inheritance
Putting The Pieces Together
The four key elements – reliable income, retirement assets, needs and wants – work together to create a clearer understanding of your financial picture and the income sources that will be used to cover retirement expenses. It highlights how much of your assets will be able to fund the gap in income for your "needs" as well as your "wants" each year. The goal, of course, is to develop a retirement income plan that helps you feel secure for the next 20 to 30 years or longer. Then you'll have the freedom to make your own choices about what retirement means for you.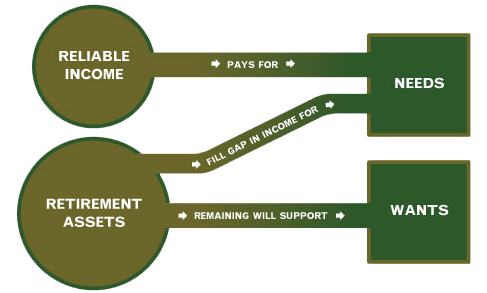 Understanding how these elements work together is the first step in creating a personalized retirement income plan. The David J Yvars Group can help you develop a holistic strategy to manage risks and fund a comfortable and secure retirement.
Consider Other Factors
Other factors may also impact your retirement, which is why we'll weigh your priorities and discuss trade-offs that could help secure your retirement and accomplish key objectives.
Other Assets
Business • Property • Home
Risk Management
Cash reserve • Life insurance
Healthcare • Long-term care
Benefiting Others
Supporting others • Charitable
Education • Legacy
David J. Yvars
The David J. Yvars Group, Inc.
400 Columbus Ave, Ste. 30S, Valhalla, NY 10595
(914) 741-9700 | Fax: (914) 741-9714
Trust and Estate Services