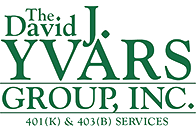 401(k) / 403(b) SOLUTIONS
Request a call from an Yvars Group Director of Retirement Plan Services:
Or call us at, (914) 741-9700
At its core, The David J. Yvars Group is an experienced, passionate and professional team of full-service specialists dedicated to providing unparalleled assistance in the areas of group and retirement plan consulting.
Because of that, we're proud to sponsor a wide variety of retirement plan options for you to choose from depending on your needs. One of the major qualities that separates us from so many other companies is that we offer no proprietary "in house" 401(k) or 403(b) products to speak of. Because of that, we're in a unique position to operate in a completely unbiased fashion with no conflicts of interest standing in the way.
Instead, we provide our retirement plan clients and plan sponsors with the independent, objective consulting they need and the advice they can trust based exclusively on the best fit for their specific plan.
Overall, our goal in working with Plan Sponsors is to:
Significantly reduce overall plan expenses.
Provide a higher level of fiduciary responsibility through our Registered Investment Advisor (RIA) designation, which is the highest standard in the industry - The Fiduciary Standard.
Assist in "cleaning up" plans administratively to guarantee plans operate as efficiently as possible. This includes working with the plan sponsor to transfer out terminated employees and more.
Assist the plan sponsor by taking on many of the servicing responsibilities of the participants, including handling rollovers in and out of the plan and more.
Working with the plan sponsor to increase participation and contribution rates.
Providing ongoing review of all investment options to make sure the funds offered to participants are top performing in their respective asset classes with the objective of maximizing investment returns.
The team at The David J. Yvars Group also has the ability to work with your current providers. Or, if you are looking to make a change, we can consult with you to offer quotes from various providers that we feel would make an excellent fit. We work closely with a plethora of different providers, including but not limited to ones like:
Fidelity Investments
Vanguard/Ascensus
Empower
American Funds
Newport Group
Paychex
ADP
403(b) Plans/Community Involvement
Along the same lines, The David J. Yvars Group is proud to actively support the many programs provided by the esteemed non-profit organizations with whom we have an existing relationship. We continue to play a role in helping with the many programs and services that are provided by our non-profit relationships that are vital to so many people in our communities.