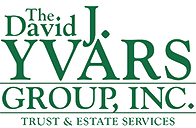 Changing Corporate Trustees
Are you upset with your trust's current trustee(s)?
Often times, decedents name trustees in their wills (or trusts) that fail to perform their trustee functions. Replacing a trustee may be the only option. Many beneficiaries, with our help, have successfully been able to remove trustees that they have been disenchanted with.
Some common complaints include; not providing enough income, lack luster rates of growth or unsatisfactory levels of service. These factors often lead to communication breakdowns and disservice from the trustee.

At the David J. Yvars Group, we handle many trust matters where we have assisted attorneys and beneficiaries to remove and replace trustees with new trustees (Corporate Trustees/Individual Trustees). In return, beneficiaries receive better service, higher levels of income and better rates of returns that are more consistent with the trust's investment objectives.
To inquire about having us assist in the removal or replacement of a Trustee it will be necessary to provide us with details of your matter. In this regard please complete and send us our Contact Form For Removal or Replacement of Trustee.
Click Here to Complete our Changing Your Trustee Questionnaire