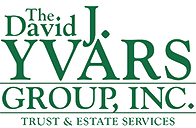 Trustee Resignations – The David J. Yvars Group
As a result of a wide range of totally acceptable circumstances, often times Trustees will not wish to carry on with the responsibility of remaining as a Trustee on a Trust.
Sometimes Trustees just don't feel comfortable taking on the fiduciary risk in managing the Trust and its associated assets. Other times personal reasons are at play.
You may have a new Trustee in mind to replace the current trustee. Or, you may wish to have us assist you to recommend a solution.
At The David J. Yvars Group we have years of experience in assisting current Trustees to secure a new Trustee so that they can resign knowing the Trust is prudently being handled. We've been helping Trustees accomplish this for over three decades.
If you're currently interested in beginning this process please fee free to contact us today by clicking the button below to provide us with some detail on your particular matter.
Click Here to Begin the Trustee Resignation Process