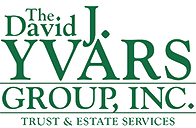 Trust & Estate Services
At the David J. Yvars (DJY) Group, we have more than 30 years of experience handling estate administrations, probate matters, long term trusts and more complex situations such as removal of corporate trustees, contested wills and trust and estate litigations. We specialize in working with estate attorneys and fiduciaries on the various administrative and portfolio management aspects necessary while assets are being held in estate accounts, long term trusts, guardianships, charitable trusts and other fiduciary matters.
Through our collective professional experience, we've learned that each trust and estate is different; therefore, the portfolio management required varies depending upon the unique characteristics and complexities of each situation.
By working with trustees, executors and attorneys, we can help ease the fiduciary responsibilities when it comes to gathering, managing and distributing assets in trusts and estates. Please take a moment to read about our services and learn how our expertise can benefit you.