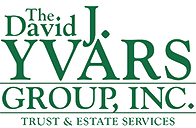 CONTACT FORM FOR REMOVAL OR REPLACEMENT OF TRUSTEE(S)
If you are currently a beneficiary and/or an interested party of a trust that you feel falls under the purview of removal or replacement of a trustee (Corporate or Individual Trustee(s)) and you would like The David J. Yvars Group, Inc. to evaluate your information and consider assisting you in this matter:
Carefully read this page.
Fill out the form below.
Email it to us.
If you have trouble with the form or would rather fax or mail it to us, please print this page, fill it out and send it to us.
We ask that you submit information about your potential matter in writing so that we may properly assess the merits of your allegation and the strategic issues they raise. This will help us make an informed decision about whether The David J. Yvars Group will be able to assist you. Please provide as much detail as possible. If you have supporting documentation, please let us know what that documentation is. If you would rather write a narrative, please address all the issues the questionnaire raises.
You must also provide us with your most recent trust(s) statements and a copy of the trust agreement in order for us to evaluate your matter. You can scan and email these documents or fax them. Please be sure to include all pages.
---
Note: The questionnaire cannot be sent unless you enter your name and the date in the above spaces. We will not initiate any work until we also receive a copy of the trust agreement(s) and current financial statement(s) of the trust. Please email to david@yvarsgroup.com or fax them to (914) 741-9714. Or mail to:
David J. Yvars
The David J. Yvars Group
400 Columbus Avenue
Valhalla, NY 10595
Important Notice
These pages should not be construed to contain legal advice. While we will treat any information provided as privileged and confidential, you should understand that when you provide information about a potential trust matter to The David J. Yvars Group, we do not become your consultant or investment advisor. With your permission, we may use your information to investigate whether we wish to assist you with the trustee removal or replacement process.